In 2010, I had the opportunity to photograph an amazing collection of wedding vendors at the first ever GRunveiled – a wedding show that felt more like a VIP walk through a magazine than a traditional bridal show. And that was the point. Aletha of Pearls Events and Joy'l of Paper Nest Designs had something a little different in mind when they had the idea to showcase vendors from the Grand Rapids area. Something a little bit more unique. Something creative. Something inspiring.
Tomorrow, I will be back in Grand Rapids to photograph the event once again and I'm super excited to be inspired and wowed again this year…and I'm not even getting married! For my 2011 couples or anyone else reading who might be planning a wedding, this is a great place for unique ideas and a chance to be in a room with lots of people who know how to make those ideas come to life. If you come to the show, look for me…I'll be the one wandering around with a camera. Well, either that or standing near the folks from San Chez sampling tapas…
What: GRunveiled: A Wedding Show for the Contemporary Bride
Where: St. Cecelia Music Center, 24 Ransom Avenue Northeast, Grand Rapids, MI
When: February 24, 2011; 5-9 p.m.
Click here to find out even more about GRunveiled, here to see some highlights from last year's event, or click here to buy tickets.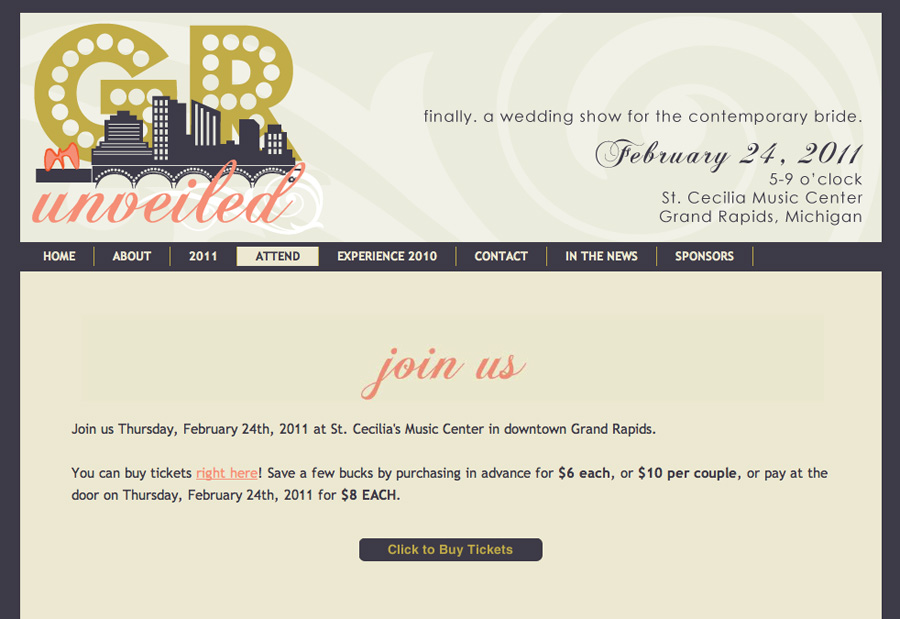 PIN